🥑Grab a Bag, It's Full of #AvoJoy!Delight in Every Bite with 8 Small Avocados for R40! We are thrilled to present the 1 kg AvoJoy Bag, your go-to snack pack with 8 small, perfectly ripe avocados for just R40! These little avocados might be small in size, but they are big on flavor, making them perfect for snacking, salads, and crafting your beloved dishes. Don't miss the chance to add a sprinkle of joy to your meals with AvoJoy Bag, offering you premium avocados without the premium price tag! Bag Your AvoJoy Today!
R 70.00
R 40.00
Introducing our 1 kg AvoJoy Bag, packed with 8 small, but mighty avocados for only R40! Perfect for snacking, salads, or creating your favorite dishes, these avocados are here to sprinkle joy to your meals without stretching your wallet!
Add to cart
Make Every Meal Special with AvoFit this Summer! ☀️🥑
Summer in the Garden Route is here and it's delightful with AvoFit! Directly from our farm in Limpopo to your plate, enjoy the tastiest and freshest avocados in every bite. With our popular Pickled Avocados leading the way, we're making sure there's plenty for everyone to enjoy this summer. So, whether it's a braai, picnic, or dinner, just 'Add An Avo'!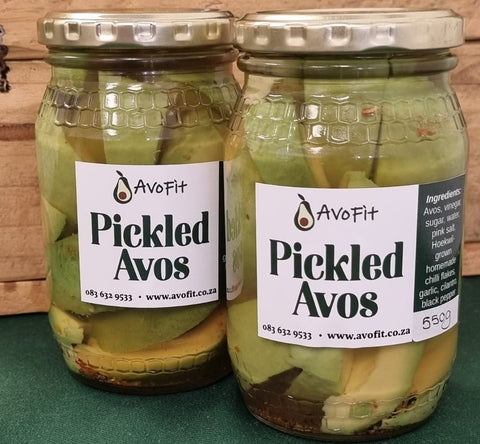 R 69.00
Unveiling our latest gourmet sensation - the Pickled Avocado! As our latest addition, it's swiftly earning rave reviews from our customers. Its allure lies in blending the creamy goodness of avocados with the zest of Hoekwil-grown homemade chilli flakes, aromatic garlic, refreshing cilantro, parsley and the grounding notes of black pepper. Ingredients: Fresh Avocados: Directly from our Limpopo farm, ensuring
Add to cart
Get Hassle-Free Access to Premium Avocados with AvoFit - Shop In-Store or Get Weekly Deliveries in the Garden Route!
Discover the convenience of shopping at AvoFit, where we offer premium first grade avocados at our retail shop. Can't make it to our shop? No problem! We offer weekly deliveries to your area in the beautiful Garden Route. Our reliable delivery service runs from Knysna to Mossel Bay to Oudtshoorn on selected days, so you can enjoy the convenience of having fresh avocados delivered straight to your door.

We also understand the unique requirements of the hospitality industry and are here to assist with any trade inquiries you may have. Our trade desk is available to discuss your specific needs for the season, ensuring that your business has access to the highest quality avocados all year round.
Avofit Standard Packing Options
Our standard packing methods involve sorting avocados of different sizes together, but with equal weight in each box. Regardless of whether you choose a box with 12 avocados or 20 avocados, the total weight remains consistent at 4kg. This is achieved by carefully combining avocados of similar sizes and weights to ensure each box offers a consistent and satisfying experience.
| | | | |
| --- | --- | --- | --- |
| Avos Per Box | Gram / Avo Range | Avos Per Box | Gram / Avo Range |
| 12 | 300-371g | 20 | 184-217g |
| 14 | 258-313g | 22 | 165-196g |
| 16 | 227-274g | 24 | 151-175g |
| 18 | 211-235g |   |   |
Enjoy the goodness of nature